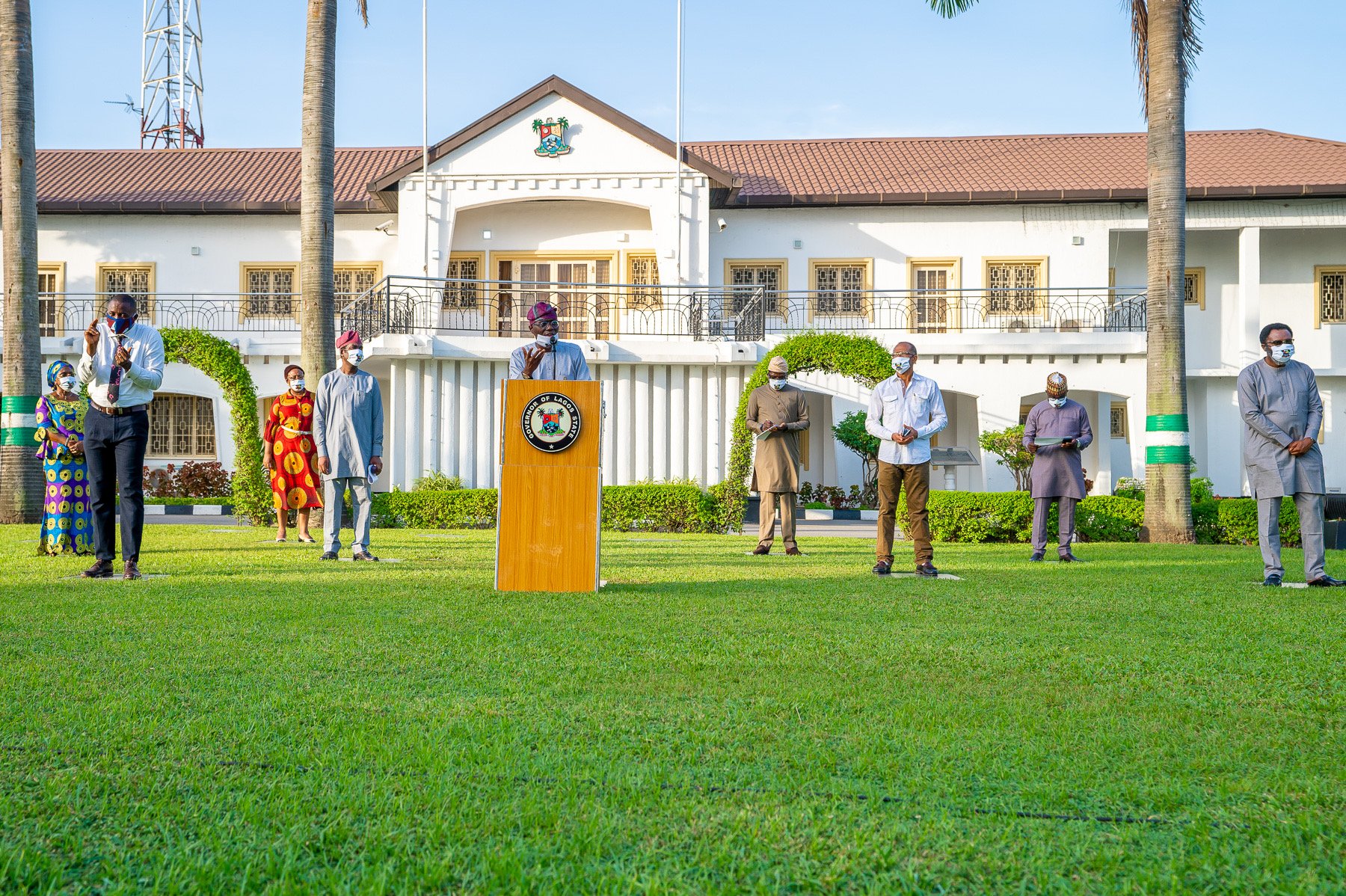 Following president
mohammadu Buhari's broadcast on the 27th of April, 2020, where he
announced a gradual winding down of the lockdown process starting from May 4th
of next month, the Lagos state governor Mr Babajide Sanwo-olu in furtherance
with the post-implementation of the wine down process yesterday release phases
of how activities of the state would operate the process of relaxation of the
lockdown.
He said civil service grade
level 1-12 would work from home while schools and religious activities will
stay closed. For those on Grade Levels, 13 and above, accounting officers would
carry out a needs assessment of critical staff, identify essential officers and
draw up a flexible work roster in compliance with social distancing
principles.
Companies that choose to
work within the controlled easing phase must operate from 9:00 am to 3p.m
deploying only sixty per cent of their staffs capacity
There would be an overnight
curfew from 8:00 p.m. to 6:00 a.m. except for essential services. "This means
that from the hours of 8:00 p.m. to 6:00 a.m., we expect all Lagosians to stay
in their homes," the governor said.
He said persons visiting
these markets and stores would be required to observe precautionary measures of
social distancing and hygiene.
"Malls will be allowed to open with the
proviso that stores in the malls maintain a 60 per cent occupancy capacity,
while also ensuring that a two-metre social distancing is maintained between
every person and the next. Hand sanitizers and/or washbasins must be
provided at all entry points, and temperature checks must be carried out."
The
governor said eateries and restaurants would be allowed to open daily between
9:00 a.m. and 3:00 p.m. However, only take-out and delivery services would be
permitted.
"All food handlers and the staff of eateries are expected to have gone through exhaustive health checks
and must also practice high levels of personal and hand hygiene in serving
members of the public. Food handlers are also mandated to wear masks and
hand gloves at all times, particularly during the preparation and serving of
food.
All
schools and institutions – primary, secondary and tertiary – remain physically
closed. Students are expected to continue learning via online and media
channels. All places of worship, formal and informal, would remain closed from
any form of congregational services or assemblage, until further notice", he
said.
On public transportation,
he said: "All buses should be loaded to a maximum of 60 per cent capacity. This
means that if a bus normally takes 10 people at full capacity, during this
period, no more than six persons can be allowed to board at any point in time.
"Whistleblowers are
encouraged to report companies that flout these directives. Our whistleblower
channels will be duly communicated to the public. Whistleblowers are guaranteed
full protection. Their identities will be kept strictly confidential.
"All entertainment centres
such as event centres, cinemas, arcades, bars, casinos, day clubs, nightclubs
and beaches will remain closed till further notice. Swimming pools, gyms,
barbershops, spas, beauty salons, and all public parks, including those in
private and residential estates, will continue to remain closed for another two
weeks."